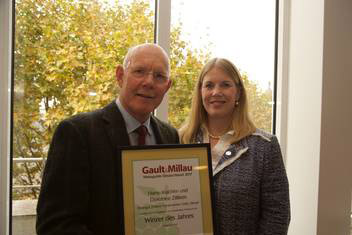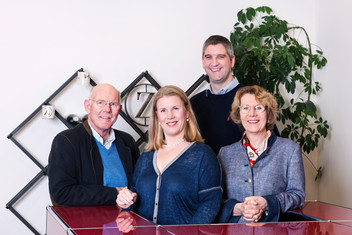 VDP.Weingut Forstmeister Geltz-Zilliken
Geschichte Weinbau seit 1742
Der Weinbau der Familie Zilliken lässt sich bis 1742 nachverfolgen. Die Vorfahren waren Winzer in Saarburg und Ockfen. Der Königlich-preußische Forstmeister Ferdinand Geltz (1851 – 1925) legte den Grundstein für den Aufstieg zu einem der führenden Familienbetriebe an Saar und Mosel. Ferdinand Geltz war Mitbegründer des "Vereins der Naturweinversteigerer Großer Ring", heute VDP Mosel-Saar-Ruwer (Verband deutscher Prädikatsweingüter). Ziel war die Versteigerung unchaptalisierter Weine höchster Qualität, um die Reputation der hervorragenden Rieslinge des Anbau- gebietes im In- und Ausland zu steigern.
Nach dem Tod von Ferdinand Geltz wurden die Weinberge unter seinen beiden Töchtern Antoinette und Ella aufgeteilt. Antoinette heiratete einen preußischen Major, Ella einen Forstmeister aus Dessau. Das Weingut Forstmeister Geltz nannte sich nach der Heirat von Antoinette in Forstmeister Geltz Krick um. Nach Ella's Tod erbten die zwei Töchter Marianne und Henriette ihren Anteil am Weingut.
An Weihnachten 1944 wurde das gesamte Gutsgebäude samt Keller durch einen Bombenangriff zerstört. Nur dem engagierten Einsatz von Marianne ist es zu verdanken, dass der Weinbau in der Familie fortgeführt wurde.1947 heirateten Marianne und Fritz Zilliken. Von nun an führten sie das Weingut unter dem Namen Forstmeister Geltz Zilliken. 1950 erwarben die Beiden einen zweistöckigen Keller in der Heckingstraße, der von nun an der neue Sitz des Weinguts ist.
Das Weingut Forstmeister Geltz Zilliken liegt in Saarburg, der malerischen Stadt an der Saar. Der Weinbau wird im Familienbetrieb schon seit 1742 betrieben. Unter der Leitung von Dorothee Zilliken werden auf 13 ha Rebfläche ausschließlich Rieslinge nach zeitgemäßen und qualitätsorientierten Maßstäben kultiviert. Unterstützt wird sie von Ihrem Vater und Kellermeister Hanno, ihrem Ehemann Philipp, ihrer Mutter Ruth und mehreren Mitarbeitern. Hohe fachliche Kenntnisse in Kombination mit Freude und Engagement sind Garanten für fruchtige und edelsüße Weine hoher Qualität, die sich für eine sehr lange Lagerung eignen.
Keller
Geltz Zilliken verfügt nicht nur über den tiefsten Keller der Saar - diese drei Stockwerke unter der Erdoberfläche strahlen zudem eine so mythische, verdichtete Atmosphäre aus, dass hier schon Szenen für Kriminalfilme gedreht wurden. Die Kelleranlage verfügt über eine hohe Luftfeuchtigkeit, kühle Temperaturen von 11 Grad Celsius und ermöglicht so eine langsame Vergärung in neutralen Eichenholzfässern. Das Potential, das der Wein aus dem Weinberg mitbringt, muss sorgsam erhalten bleiben. Wein entsteht im Weinberg. Im Keller kann nichts hinzugewonnen werden. Die natürliche Schwerkraft des tiefen Keller nutzend werden die Fässer zum Vergären gefüllt. Der gesamte Ausbau der Weine erfolgt im Holzfass. Die kühle, durch naheliegende Quellen extrem feuchte Kelleranlage bietet dafür optimale Bedingungen.
Die Zilliken-Philosophie
Die Arbeit im Holz ist übrigens bei deutschen Spitzen-Weingütern selten geworden. Bei Geltz Zilliken gehört sie zur unverwechselbaren Handschrift einer ganzen Winzerdynastie. In diesem Keller liegen die Rieslinge auch zur langsamen Flaschenreifung. Auch dies ist ein wichtiger Bestandteil der Zilliken-Philosophie für Weine, die ein großes Entwicklungspotential haben. Ein solcher Keller ist natürlich auch die ideale Lagerstätte für unsere Schatzkammer mit historischen Jahrgängen des Gutes. Viele Weine erreichen über Jahrzehnte erst ihren Höhepunkt. https://youtu.be/OT-5QJNPGP0
VDP. Weingut Forstmeister Geltz-Zilliken
WINEGROWING SINCE 1742
The Zilliken family traces its winegrowing tradition back to 1742. The early generations toiled in Saarburg and Ockfen, but it was Royal Prussian Forest Superintendent Ferdinand Geltz (1851 – 1925) who laid the groundwork for what would become one of the grandest family-owned estates anywhere on the Saar and Mosel. Ferdinand Geltz was a co-founder of the "Vereins der Naturweinversteigerer Großer Ring," an organization today known as the VDP Mosel-Saar-Ruwer (Verband Deutscher Prädikatsweingüter). It promoted the sale of premier quality unchaptalized wines as a way to raise the profile, both domestically and internationally, of the outstanding Rieslings being produced in this winegrowing region.
Following the death of Ferdinand Geltz, the vineyards were divided between his two daughters, Antoinette and Ella. Antoinette married a Prussian major, while Ella took a forester superintendent from Dessau as her groom.
In honor of Antoinette's husband, the Forstmeister Geltz estate was renamed Forstmeister Geltz Krick. After Ella's death, her daughters Marianne and Henriette inherited her share of the property. On Christmas 1944, the estate's house and cellar were completely destroyed in a heavy bombing raid. It was Marianne's steely determination that preserved the winegrowing tradition within the family. In 1947 Marianne married Fritz Zilliken, and from that point on the estate has labelled itself Forstmeister Geltz-Zilliken. The couple acquired a two-story cellar on Heckingstrasse in 1950, which still serves as the center of the estate's operations even today
Cellar
The Geltz Zilliken cellar is the deepest in the Saar Valley, stretching three stories beneath the earth. Yet beyond the impressive dimensions, it also radiates an atmosphere of myth and majesty. The effect is so pronounced that its dimly lit halls have even served as the backdrop for detective films. And, as if by design, the natural conditions — humidity and cool temperatures of around 11 degrees Celsius — lend themselves to slow fermentation in neutral oak barrels.
We see our task as carefully preserving the potential the wine carries within itself. Wine is created on the vines; you cannot add anything in the cellar. The natural gravity of the deep cellar is harnessed to fill the barrels for fermentation, and in fact the wines are vinified from start to finish in those same wooden barrels. Nearby underground springs keep the cellar perpetually cool and extremely moist, ensuring optimal conditions for this approach to winemaking.
THE ZILLIKEN PHILOSOPHY
This focus on oak has actually fallen out of favor among high-end German winegrowers. At Geltz Zilliken it is considered an essential hallmark of an entire winegrowing dynasty.
Here in this cellar the Rieslings are stored for a slow bottle fermentation. This represents another crucial component of the Zilliken philosophy. Our wines are intended to mature. This kind of cellar is naturally also an ideal repository for our 'treasures,' including our library of historic vintages from the estate. Many wines take decades to reach their peak.
https://youtu.be/OT-5QJNPGP0