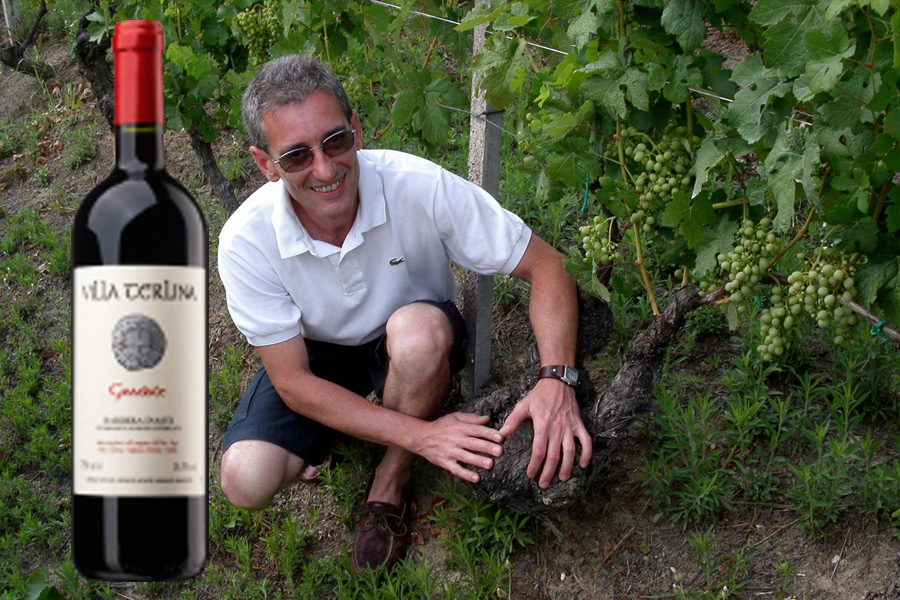 Name der Weinkellerei:         Villa Terlina (Mitglied von Renaissance des Appellations)
Name des Eigentümers:        Dr. Paolo Alleiata
Weinkellerei besteht seit:      18.-19. Jahrhundert, Eigentümer kaufte die Weinkellerei 1997
Region:                                               Piemont - Monferrato
Dorf:                                       Agliano Terme
Appelation::                            Barbera d'Asti, Piemont Barbera, Monferrato Rosso
Art der Produktion:               Biologisch-dynamisch seit 2008 (Bio-zertifiziert im Jahr 2013 -
IT BIO 009 DU17, Biologisch-dynamisch zertifiziert 2015 - AgriBio)
Produzierte Flaschen / Jahr: 30.000
Hectaren des Anstands:       10,00
Hektar Weintrauben:             7,90
Hektoliter / Hektare:              Max. 25,00 Monsicuro
Hektoliter / Hektare Max.:    45,00 Andere Weine
Bodentyp:                               mergel-kalkhaltig mit Gipsgestein
Rebsorte gepflanzt:               Barbera, Nebbiolo, Uvalino
VORWORT
Villa Terlina ist ein kleiner Familienbetrieb, der sich zum Ziel gesetzt hat, Terroir-Weine unter strenger Einhaltung des biologischen Anbaus zu produzieren. Jeder Wein hat seine eigene Persönlichkeit, wobei die Hauptcharakteristik des Produktionsjahres respektiert wird. Villa Terlina produziert keine Standardweine und verwendet nur die Trauben aus den eigenen Weinbergen.
DIE PERSON
Der Winzer Paolo Alleiata erhielt seinen Abschluss in Agrarwissenschaften, gefolgt von Spezialisierungskursen in Wein in Bordeaux und Beaune. Er sammelte Erfahrungen als Winzer in der Toskana, Deutschland und Frankreich. In St. Emilion hatte er die Gelegenheit, eine lange Etappe bei Canon-LaGaffelière zu machen, wo er mit einem fantastischen Team zusammenarbeitete und umfangreiche Erfahrungen im Umgang mit Barriques sammeln konnte. Diese Erfahrung war nicht nur eine technische, sondern vor allem eine ideologische. Der Herr Graf von Neipperg lehrte ihn, dass Weinmachen vor allem eine Frage der Leidenschaft, der Sensibilität und des Respekts vor dem Terroir ist. 1997 kaufte Paolo die Villa Terlina und begann, seinen eigenen Wein zu machen, überzeugt davon, ein besonderes Terroir gefunden zu haben, das es erlaubt, Weine mit einer großen Persönlichkeit zu schaffen. Seit 2008 arbeitet er mit biodynamischen Methoden.
ARBEITSMETHODEN IN DEN WEINBERGEN
Zu Beginn, im Jahr 1997, wurden die Weinberge mit nachhaltigen landwirtschaftlichen Methoden bewirtschaftet, die umweltfreundlich sind, aber den Einsatz von chemischen Produkten zulassen. Nach einem zweijährigen Test im Monsicuro wurden 2008 in allen Parzellen biodynamische Anbaumethoden eingeführt. Die Lage der Parzellen mit einer optimalen Exposition macht es besonders einfach, mit diesen Methoden zu arbeiten. Seit 2010 ist die gesamte Fläche unter amtlicher Kontrolle und seit 2013 zertifiziert.
Im Herbst, nach der Ernte, wird der Boden vertikutiert und der Maria Thun Fladen nach einem leichten Regen gespritzt. In dieser Zeit werden Pflanzen wie Klee, Erbsen, Wicken, Lupinen, Buchweizen und andere gesät, um die Fruchtbarkeit und die Bodenstruktur zu erhöhen. Der Herbst ist eine der Perioden des Jahres, in der die Mikroorganismen im Boden besonders aktiv sind, dann ist dies der Moment, um etwas Kompost auf die Parzellen zu verteilen, die ihn benötigen.
Der Winter ist die Zeit der Ruhe im Weinberg. Nach dem ersten Frost, wenn der Mond abnehmend ist, kann der Rebschnitt beginnen. Das abgeschnittene Holz wird gehäckselt und kommt zurück in den Boden.
Der Frühling ist die Zeit des Erwachens. Wenn die Temperaturen mild werden, wird die Hornmistgabe (D500-Präparat) ausgebracht. D500 bringt Vitalität in den Boden. Nach einstündiger Dynamisierung im Holzfass wird am Nachmittag an einem "Fruchttag" nach dem M. Thun-Kalender gespritzt.
Mit der Entwicklung der Blätter, der milden Temperatur und dem Frühlingsregen kommen die Pilzkrankheiten, Mehltau und Oidium. Die Biodynamik bietet viele Mittel gegen diese Pflanzenerreger, so dass der Einsatz von Kupfer und Schwefel drastisch reduziert werden kann. Kräutertees aus Schachtelhalm und Brennnessel sind sehr wirksam gegen Mehltau, Kamille und Achillea können den Einsatz von Schwefel gegen Oidium reduzieren. Weidentee verbessert die Widerstandsfähigkeit der Pflanzen. Auf diese Weise kann der Einsatz von Kupfer auf 1,5 kg/ha/Jahr reduziert werden (die EU-Bioverordnung erlaubt 4,0 kg/ha/Jahr).
Zur Bekämpfung der Insekten werden Farbfallen eingesetzt. Andere biologisch-dynamische Präparate werden je nach Jahr eingesetzt, Kamille im sehr heißen Sommer, Hornkieselsäure, manchmal in den neu angelegten Weinbergen und im Herbst, um die Verholzung der Rebentrieb. Neuerdings sprühen wir auch im Frühjahr Hornkiesel, um das Wachstum der neuen Triebe zu verbessern. Anmerkung: alle Kräuter werden früh morgens auf eigenen Wiesen geerntet, D500 und D501 sind bereitgestellt von Ivo Bertaina, einem der besten biologisch-dynamischen Berater in Europa. Alle menschlichen Eingriffe am Rebstock werden manuell durchgeführt, auch die Lese, bei der die Trauben werden sorgfältig in Kisten verpackt und schnell in den Keller gebracht, um die Unversehrtheit der Produkt so viel wie möglich.
ARBEITSMETHODEN IM KELLER
Der Keller der Villa Terlina ist ein altes Gebäude, das zum Teil aus dem 18. Jahrhundert stammt. Es gibt keine Hi-Tech Anlagen, aber alle Phasen der Weinbereitung finden auf sehr einfache Weise statt. Die Gärung erfolgt spontan, um den individuellen Charakter jedes Weinbergs zu respektieren. Bei Gradale, Monsicuro und Piediferro kann die lange Mazeration 3-4 Wochen dauern, bei Gradale, Monsicuro und Piediferro- Im Allegemeinen kürzer für den Bricco Francia. Die Gärung von Monsicuro und Piediferro erfolgt nach dem Pressen einen Teil des Traubenstiels im Most belassen. Nach der vollständigen alkoholischen Gärung (<2g/lt Zucker) bleiben die Weine in den Tanks, bis die Die malolaktische Fermentation wird abgeschlossen sein. Nach dieser Phase wird der Bricco Francia in Flaschen abgefüllt 3-4 Monate gehen die anderen Weine in die Barriques, um die Verfeinerungsphase zu erreichen. Die Verfeinerungszeit ist von Jahr zu Jahr unterschiedlich, je nach Charakteristik des Jahrgangs. Alle menschlichen Eingriffe werden auf ein Minimum beschränkt, um die Identität der Weine zu bewahren, weder die Schönung noch werden Filterungen durchgeführt. Eine weitere Absicht ist es, den Gehalt an Sulfiten in den Weinen zu reduzieren, ohne ihre Qualität zu beeinträchtigen. Durch die Kontrolle der Stärke der oxydoreduzierenden Bedingungen können wir die Weine mit etwa 35-60 mg/l Sulfite. Für die Abfüllung werden modernste Maschinen eingesetzt, die die besten hygienischen Bedingungen gewährleisten, alle Dies wird von einem hochprofessionellen Betreiber gewährleistet, der mit einem großen und gut organisierter Lastwagen. Nach der Abfüllung folgt der Zeitraum (6-12 Monate), in dem die Weine in die Flasche, um ihre natürliche Reifung zu vollenden, bevor sie den Keller verlassen.
GENERALITY
Name of the Winery:             Villa Terlina (Member of Renaissance des Appellations)
Name of the Owner:              Dr. Paolo Alleiata
Winery existence since:        18th-19th century, actual owner bought the winery in 1997
Region:                                               Piedmont - Monferrato
Village:                                   Agliano Terme
Appelation:                             Barbera d'Asti, Piemonte Barbera, Monferrato Rosso
Type of production:               Biodynamic since 2008 (Bio certified in 2013 - IT BIO 009 DU17,
Biodynamic certified 2015 - AgriBio)
Bottles produced / year:        30.000
Hectares of the propriety:     10,00
Hectares of Wine grapes:     7,90
Hectoliter / Hectare               Max. 25,00 Monsicuro
Hectoliter / Hectare Max.     45,00 Others wines
Type of Soil:               Marly-calcareous with gypsum rock
Grapes Variety                      Planted: Barbera, Nebbiolo, Uvalino
PREAMBLE
Villa Terlina is a small family owned winery which goal is to produce terroir-wines in strict adherence to organic agriculture. Each wine has its own personality, respecting the main characteristic of the year of producing. Villa Terlina doesn't produce standard wines and uses only the grapes grown in own vineyards.
THE PERSON
Winemaker Paolo Alleiata received his degree in Agricultural Sciences, followed by specialization courses in wine in Bordeaux and Beaune. He gained experience working in Tuscany, Germany and France as a winemaker. In St. Emilion he had the opportunity to make a long stage by Canon-LaGaffelière working with a fantastic team and gaining extensive experience in using barriques. This experience was not only a technical but especially an ideological one. Mr. the Count of Neipperg taught him, wine making is above all a question of passion, sensibility and respect for the terroir. In 1997 Paolo bought the Villa Terlina and began to make his own wine, persuaded to have found a particular terroir, allowing to create wines with a great personality. Since 2008 he has been working with biodynamic methods.
WORKING METHODS IN THE VINEYARDS
At the beginning, in 1997, the vineyards were exploited applying sustainable agricultural practices, environmental friendly but permitting the use of chemical products. After two years test in the Monsicuro, in 2008 biodynamical methods of cultivation were introduced in all the parcels. The position of the parcels with an optimal exposure makes particularly easy to work with this methods. Since 2010 the whole surface is under official control and certified since 2013.
In autumn, after the harvest, the soil is scarified and the Maria Thun Fladen is sprayed after a soft rain. In this period, plants as clover, pea, vetch, lupine, buckwheat and others were seeded to increase the fertility and the soil structure. Autumn is one of the period of the year where the micro-organisms in the soil are particularly active, than this is the moment to distribute some compost in the parcels which need it.
Winter is the time for repose in the vineyard. After the first frost, when the moon is descending, the pruning can begin. The pruned wood is chopped and returns back into the soil.
Spring is the time of the awakening. As the temperature becomes mild, the horn manure (D500 preparation) will be sprayed. D500 bring vitality in the soil. After one hour dynamization in a wood barrel, it is sprayed in the afternoon in a "fruit day", following M. Thun calendar.
With the developing of the leaves, the mild temperature and the spring rain, come the fungal diseases, mildew and oidium. The biodynamic offers a lot of remedies against these plants pathogens, so that the use of copper and sulphur can be drastic reduced. Herbal teas of horsetail and nettle are very effective against mildew, camomile and achillea can reduce the use of sulphur against oidium. Willow tea improves the plants resistance. In this way, the use of copper can be reduced to 1,5 kg/ha/year (EU biological rule permit 4,0 kg/ha/year).
To control the insects, chromatic traps are used. Other biodynamic preparations are used depending of the year, chamomile by very hot summer, horn silica sometimes in the new planted vineyards and in autumn to help the lignification of the vine shoot. Recently we spry horn silica also in spring to improve the growth of the new shoots. Note: all the herbs are picked up early in the morning in own meadows, D500 and D501 are provided by Ivo Bertaina one of the best biodynamic consultants in Europe. Alle human interventions on the vine are carried out manually, even the harvest, where the grapes are carefully placed in boxes and taken quickly to the cellar, in order to respect the integrity of the product as much as possible.
WORKING METHODS IN THE CELLAR
Villa Terlina cellar is an old building in part dating back to the 18th century. There are no hi-tech equipments but all the phases of the vinification take place in a very simple way. The fermentation occurs spontaneously to respect the individual character of each vineyard. The lengthy maceration can go on for 3-4 weeks in case of Gradale, Monsicuro and Piediferro, it is generally shorter for the Bricco Francia. The fermentation of Monsicuro and Piediferro occurs leaving a part of the grape-stalk in the must after crushing.
After the complete alcoholic fermentation (<2g/lt sugar), the wines remain in the tanks until the malolactic fermentation will be completed. After this phase the Bricco Francia will be bottled after
3-4 months, the other wines go into the barriques to achieve the refining phase. The refining time is different each year depending on the characteristic of the vintage. Alle human intervention is kept to a minimum to preserve the identity of the wines, neither fining nor filtering are carried out.
Another intent is to reduce the level of sulphites in the wines without compromising their quality. By strength control of the oxydo-reductive conditions we can bottle the wines with about 35-60 mg/l sulphites.
For the bottling the most modern machineries are used, assuring the best hygienic conditions, all this is provided from a high professional operator coming to the winery with a big and well organized truck.
After the bottling, there follows the period (6-12 months) during which the wines are laid down in the bottle to complete their natural maturation before leaving the cellar.