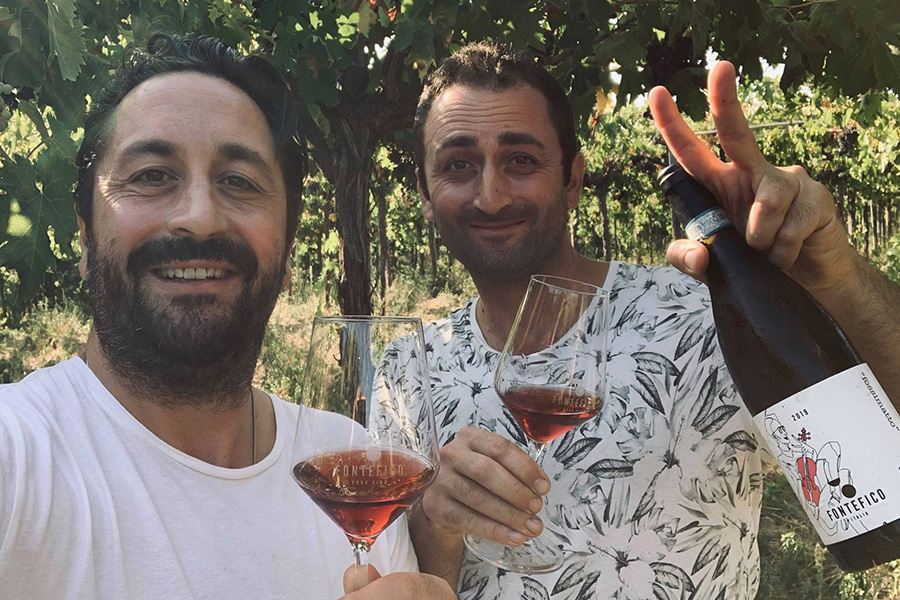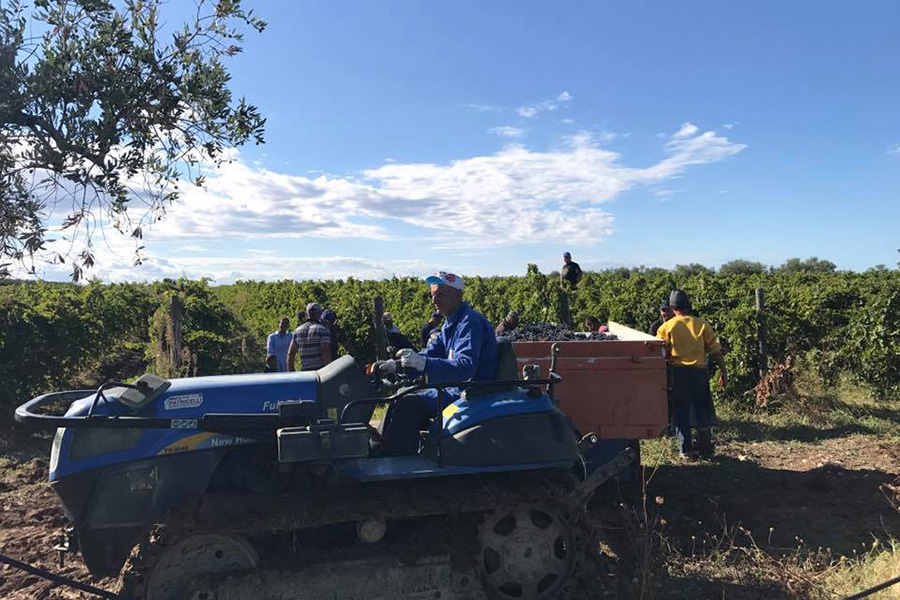 Die Azienda Agricola Fontefico ist ein biologisches Boutique-Weingut mit Blick auf den Golf von Vasto im südlichsten Teil der Küste der Abruzzen. Die Weinberge des Anwesens umfassen etwa 15 Hektar, auf denen ausschließlich autochthone Rebsorten wie Pecorino, Trebbiano und Montepulciano angebaut werden. Die Region um Fontefico ist besonders geeignet für den Weinbau: Die frischen und salzigen Winde der Adria machen die Weine mineralisch und geschmackvoll und versehen sie mit einer ungewöhnlichen Struktur und Langlebigkeit. Das Gut wird von den Brüdern Nicola und Emanuele Altieri geführt – den Fratelli Altieri. Die beide setzen, seit sie vor mehr als zwanzig Jahren mit dem Weinbau begonnen haben, kompromisslos auf Qualität – ungeachtet gegenwärtiger Moden und Trends. Jeder ihrer Weine stammt von einem einzigen und spezifischen Weinberg mit seinen einzigartigen und nicht reproduzierbaren Eigenschaften. Jeder Wein hat daher seine eigene Identität, die von den individuellen Namensgebungen und Etiketten jedes Weins widergespiegelt wird.
So heißt etwa der Pecorino Superiore La Canaglia ("Der Lausbub") deshalb so, weil sein Weinberg "trotzig" ist – er lässt sich nur schwer zähmen, aber dann wird ihm verziehen, weil er einen Weißwein der Superlative hervorbringt. Der Trebbiano Superiore trägt den Namen Portarispetto ("Erweise Respekt!"), denn Trebbiano ist eine Rebsorte, von der ansonsten immer nur erwartet wird, mehr und mehr Ertrag zu bringen. Doch durch die liebe- und respektvolle Behandlung seiner Trauben verblüfft dieser Trebbiano und erzählt vom Land der Abruzzen mit einem besonderen Charme. Der Montepulciano d'Abruzzo von Fontefico ist die Cocca di Casa ("Liebling des Hauses"), denn der Montepulciano ist schließlich die Lieblingstraube der Abruzzen.
Die Liste ließe sich weiterführen – jeder Weinberg hat eine Identität und jeder Wein seinen eigenen Charakter. Die Besonderheit bei den Fratelli Altieri ist, dass jeder ihrer Wein-Protagonisten, Ernte für Ernte, auf dem jeweiligen Jahrgangsetikett auf eine andere Art und Weise nachgezeichnet wird, um eine Anekdote seines Jahrgangs zu erzählen. Stellt man die Flaschen der verschiedenen Jahrgänge und die verschiedenen Weine in eine Reihe, kann man die Geschichte von Fontefico nachlesen – eine Geschichte, die von Terroir und Authentizität spricht.
Azienda Agricola Fontefico is an organic boutique winery overlooking the Gulf of Vasto, in the southern most part of the Abruzzo coast. The estate covers about 15 hectares of vineyards growing exclusively indigenous grape varieties, such as Pecorino, Trebbiano and Montepulciano . Theare ais particularly suitable for viticulture: the fresh and saline winds of the Adriatic make the wines mineral and savory, with an uncommon structure and longevity.
Fontefico is run by the two brothers Nicola and Emanuele Altieri, who since the beginning, now more than twenty years ago, have aimed for uncompromising quality that goes beyond the fashions of the moment. In fact, each wine comes from a single and specific vineyard, with unique and unrepeatable characteristics. Each vineyard therefore has ist own identity which is found on the label of each wine. So Pecorino Superiore is "La canaglia" (the rascal), because the vineyard is spiteful, it does not allow itself to be tamed, but then it is forgiven by giving a superlative white wine.
Trebbiano Superiore is the "Portarispetto" (bring respect), because this is a grape variety has always been asked only to produce more and more. However, by treating its bunches with love and respect, the Trebbiano amazes and tells the land of Abruzzo with a special charm. Montepulciano d'Abruzzo is the "Cocca di casa", because this is, after all, the favorite grape. And so on, each vineyard an identity and each wine a character.
The peculiarity is that each of these protagonists, harvest after harvest, is drawn on the label in a different way, to tell an anecdote of the vintage. Hence putting together the bottles of the various vintages and the various wines, you can read the story of Fontefico.
A story that speaks of terroir and authenticity.